CAL RARE is dedicated to improving the lives of rare disease patients in California. We are a coalition of rare disease stakeholders with a goal to raise awareness among the general public and decision makers regarding rare diseases. We want to bring recognition to the issues rare disease patients face and work to ensure access to physicians, treatments, and social services.
News
Thursday, November 21, 2019 10:06 AM
Cal Rare Announces Two New Board Members
The California Action Link for Rare Diseases (Cal Rare) is pleased to announce the addition of two new members to their Board of Directors, Hudson Freeze and Dr. Gregory Enns. The Board is comprised of rare disease stakeholders who provide leadership and expertise for carrying out the mission of the non-profit.
"It is an honor to welcome Hudson Freeze and Dr. Gregory Enns to the Board. Each brings a wealth of experience and expertise in rare disease research and a desire to ambitiously advocate for patients," said Angela Ramirez Holmes, parent advocate and Founder/President of Cal Rare. "They will be a tremendous asset as we further our mission of improving the lives of rare disease patients in California."
---
Friday, October 4, 2019 1:34 PM
Joint Hearing: Project Baby Bear
Joint Hearing of the Assembly Select Committee on Biotechnology and the California Legislative Rare Disease Caucus to be held on Tuesday, October 15, 2019 in San Diego.
"Assessing California's Clinical Whole Genome Sequencing Pilot Project in Medi-Cal: An Interim Report on the Practical Application of Precision Medicine in California"
Overview
Research has shown that clinical rapid whole genome sequencing (rWGS) is effective for rapid diagnosis and early treatment of genetic diseases in acutely ill infants in intensive care units, and results in improved outcomes and reduced cost of hospitalization in some patients. Currently, rWGS is not a reimbursed test under Medicaid, and not yet available to most Medi-Cal enrolled infants. On June 27, 2018, the California State Budget appropriated $2,000,000 in funding for a Medi-Cal Whole Genome Sequencing Pilot Program. The State Department of Health Care Services in turn provided this grant to Rady Children's Hospital – San Diego (RCHSD), a California non-profit organization, in order to execute an rWGS Pilot Program now named "Project Baby Bear."

Pilot Project Objectives
Project Baby Bear is a Quality Improvement (QI) project that is employing rWGS for at least 100 acutely ill children enrolled in the Medi-Cal program at a minimum of four neonatal/pediatric Medi-Cal intensive care sites. Rady Children's Hospital – San Diego in conjunction with Rady Children's Institute for Genomic Medicine is evaluating the extent to which rWGS changes the cost of patient care and patient outcomes within four months of return of results. At the conclusion of the grant period, Rady Children's Hospital will provide California's State Department of Health Care Services a report of the cost of care and outcomes of children receiving rWGS compared to those not receiving rWGS. This is an interim report on the 115 children already helped in Medi-Cal.
---
Wednesday, August 21, 2019 2:27 PM
Rare Disease California Caucus Hearing 8/27/19
The bipartisan Rare Disease Caucus will host an information briefing on Tuesday, August 27, 2019 from 11am-12pm at the California State Capitol, Room 127. A complimentary lunch follows in Room 125.
The subject is Rare Research and the agenda includes a spotlight on the rare disease Amyloidosis, a look ahead at innovation in digital medicine, and an update on the work of Caucus members for rare disease patients including a report on Project Baby Bear: the $2 million Whole Genome Sequencing Pilot Project, and the $15 million Sickle Cell Disease budget appropriation.
The hearing is open to the public.

Agenda

RSVP
---
Tuesday, February 5, 2019 3:14 PM
What a Year! 2018 Year In Review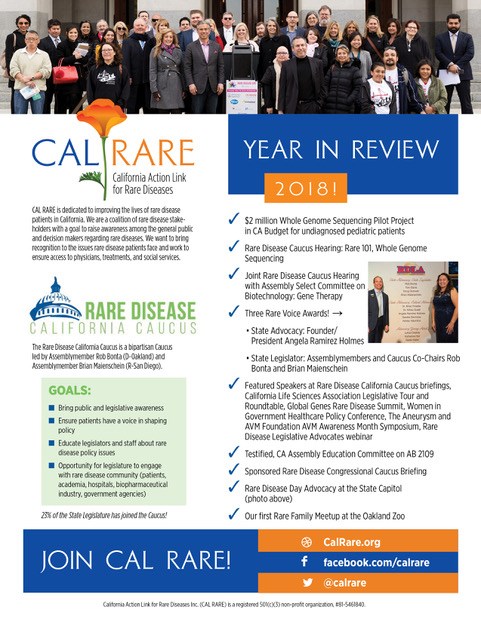 ---
Thursday, January 31, 2019 12:00 AM
"UC Davis Children's Hospital this month joins Project Baby Bear, the first California state-funded program to offer rapid whole genome sequencing (WGS) for critically ill newborns. The $2 million Medi-Cal pilot program will provide genome testing for babies under a year of age who are hospitalized in intensive care and suspected of having a genetic disorder."